Advertiser Disclosure
College Ave Student Loan Review
Updated On September 5, 2023
Editorial Note: This content is based solely on the author's opinions and is not provided, approved, endorsed or reviewed by any financial institution or partner.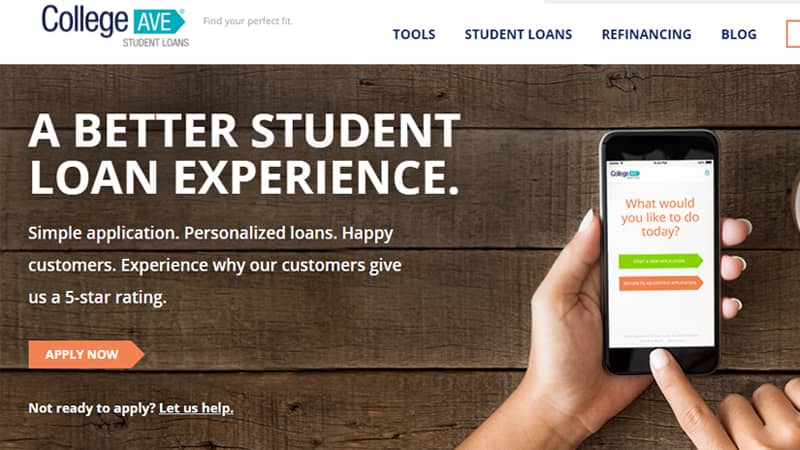 How do we make money?
The products featured on this website are from our partners who compensate us. This may impact which companies we review, the products we evaluate, and where and how a product appears on a page. We receive compensation from a partner when you apply for and receive a product through Mentor. This helps us to support our website, offer free content, tools and calculators, and continue to be one of the leading sources on personal finance.
Company Overview: College Ave
Founded in 2014 and based in Washington, D.C., College Ave is a student loan company was founded by former Sallie Mae executives. College Ave positions itself as having flexible repayment terms and helps borrowers obtain a lower monthly student payment (not just a lower interest rate). College Ave offers undergraduate student loans, graduate student loans and parent loans as well as student loan refinancing.
College Ave Student Loan Overview
College Ave offers attractive rates and terms compared with other top lenders in the student loan industry:
Overview
Variable APR:
5.49% - 16.99%
Fixed APR:
4.41% - 16.99%
Loan Type:
Graduate, Undergraduate
Minimum Loan Amount:
$1,000
Loan Terms:
5, 8, 10, 15 years
Details
Student loans available to graduate, bachelors and associates degrees
Deferment and forbearance options may be available
Grace period for undergraduates: 6 months
Grace period for graduate students: 9 months
Flexible student loan repayment options
How College Ave Compares: Key Benefits For Student Loans
Here are some of the reasons that College Ave borrowers love College Ave student loans:
Loan Customization: College Ave has a useful tool that helps you choose your loan term length, interest rate and repayment plan.
Lower Rate With Cosigner: If you apply with a creditworthy cosigner, College Ave may give you a lower interest rate compared to the interest rate you could get on your own.
Deferment and Forbearance: College Ave may allow borrowers to pause their student loan payments if you return to school or enter the military. College Ave may also let you pause your student loan payments through a forbearance.
Repayment Flexibility: College Ave offers multiple, flexible repayment plans so you can determine which student loan repayment plan is right for you.
Eligibility Criteria
To apply for College Ave student loans, you need to meet the following eligibility criteria:
Requirements To Apply For College Ave Student Loans
Minimum Age: At least age of majority in your state
Citizenship/Residency: U.S. citizen or permanent resident (applies to co-signer too, if any)
Eligible Schools: You graduated from a Title IV accredited university or graduate program
Bottom Line: Is College Ave right for you?
Excellent Reputation: College Ave has an excellent reputation in the student loan refinancing industry.The average College Ave member earns enough income to pay student loans, other debt obligations and monthly living expenses. The minimum income required is $38,000, and you will need a credit score in the high 600's.Typically, your income should be at least twice your annual debt payments.
Maximum Loan Amount: College Ave will refinance student loans up to a maximum loan amount of $300,000 for borrowers with medical, dental, pharmacy or veterinary doctorate degrees, and $150,000 for all other undergraduate and graduate degrees.
Rate Discounts: College Ave offers two repayment discounts. Like other student loan refinance lenders, you can receive a 0.25% discount when you enroll in autopay. You can receive an additional 0.25% interest rate reduction if your autopay is linked to a Nationwide Bank checking or savings account.
Flexible Repayment Options: College Ave also offers flexible student loan repayment options, including, for example, immediate repayment or interest only for the first two years. You can also choose your loan term anytime between 5 and 20 years. Of course, you can always pay more than the monthly minimum, since there are no prepayment fees for student loans.
Lower Rate With Qualified Cosigner: With College Ave, you can apply to refinance student loans with a qualified cosigner to help improve your chances of approval. While College Ave does not offer cosigner release, your cosigner's strong credit profile could help you qualify for a lower rate.
If you have a good credit rating, stable employment and want to lower your interest rates, then College Ave student loan refinancing may be right for you.
Next Steps: How To Apply To College Ave
You can apply for College Ave student loans in 3 easy steps.
Step 1: Check your rate in minutes
Step 2: Complete application and upload documents.
Step 3: Accept loan terms and get funded.
You may need at least the following documents to complete the online application:
Your most recent pay stubs or tax return
Driver's license or passport (or other form of government-issued identification
Transcript or diploma to verify your degree
Top Picks For Student Loan Refinancing
September 2023
Variable APR
?

APR, or Annual Percentage Rate, is the price you pay to borrow money. Variable APR means that your interest rate can fluctuate over time, which can increase or decrease your monthly student loan payment. Typically, a variable-rate loan has a lower introductory rate than a fixed-loan rate loan. Variable APR includes a 0.25% discount when you enroll in autopay.
Fixed APR
?

APR, or Annual Percentage Rate, is the price you pay to borrow money. Fixed APR means that your interest rate will always stay the same. Even if interest rates change, your interest rate or monthly payment will not. Fixed APR includes a 0.25% discount when you enroll in autopay.
APR