Advertiser Disclosure
Shark Tank Reject Makes Lemonade With Richard Branson, Raises $209 Million
Updated On September 14, 2022
Editorial Note: This content is based solely on the author's opinions and is not provided, approved, endorsed or reviewed by any financial institution or partner.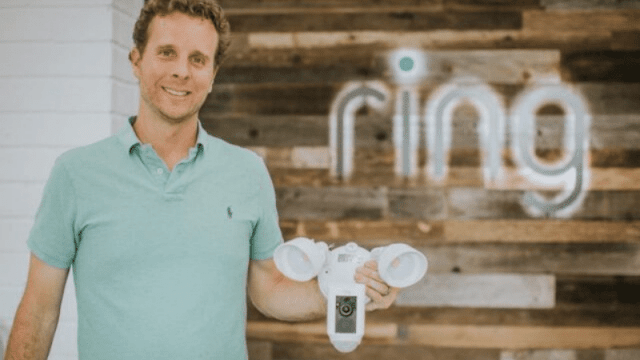 How do we make money?
The products featured on this website are from our partners who compensate us. This may impact which companies we review, the products we evaluate, and where and how a product appears on a page. We receive compensation from a partner when you apply for and receive a product through Mentor. This helps us to support our website, offer free content, tools and calculators, and continue to be one of the leading sources on personal finance.
If you're a fan of Shark Tank, then you may remember Jamie Siminoff.
In September 2013, he pitched his company, then called DoorBot, in hopes of raising $700,000 for his revolutionary video doorbell.
However, the sharks were not biting and Siminoff walked away without an investment. Kevin O'Leary even delivered his signature "You're dead to me" line.
Their loss.
Today, Siminoff's company – now known as Ring – has raised $209 million from some of the world's top investors, including Kleiner Perkins, First Round, Richard Branson, Goldman Sachs, DFJ Growth, Qualcomm Ventures, American Family Insurance, Amazon Alexa Fund and Shea Ventures, among others. This includes the $109 million Ring raised last month in its Series D round, which was led by DFJ Growth, Goldman Sachs and Qualcomm Ventures.
Top Picks For Student Loan Refinancing
September 2023
Variable APR
?

APR, or Annual Percentage Rate, is the price you pay to borrow money. Variable APR means that your interest rate can fluctuate over time, which can increase or decrease your monthly student loan payment. Typically, a variable-rate loan has a lower introductory rate than a fixed-loan rate loan. Variable APR includes a 0.25% discount when you enroll in autopay.
Fixed APR
?

APR, or Annual Percentage Rate, is the price you pay to borrow money. Fixed APR means that your interest rate will always stay the same. Even if interest rates change, your interest rate or monthly payment will not. Fixed APR includes a 0.25% discount when you enroll in autopay.
APR
What is Ring?
Ring makes, among other products, a wireless, video doorbell that connects to your smartphone so that you can remotely see and speak real-time to the person at the door through your mobile device – even if you are not actually home.
Ring's mission is to reduce crime in communities and empower consumers by creating a "ring" of security around homes and neighborhoods. Since burglars tend to ring the door bell before breaking into a home, Ring serves as a home security device that you can access from anywhere in the world.
Siminoff, Ring's founder and CEO, spoke with Mentor Money and Forbes about Ring, Shark Tank, Richard Branson, technology, reducing crime and more:
Zack Friedman (ZF): Do you consider yourself an entrepreneur or an inventor?
Jamie Siminoff (JS): I don't consider myself an entrepreneur. I thought I was an entrepreneur after college, but as I have matured in business, I realized that I am and always have been an inventor. Conceiving new products that solve problems and bringing them to market is my passion.
ZF: Why did you start Ring?
JS: I was working out of my garage at the time and could not hear the doorbell ring anytime someone came by. I looked online for a Wi-Fi doorbell and could not find one available anywhere. So I built it.
ZF: How did you start Ring?
JS: I started Ring in an attempt to solve a problem I was having. It started as a small company in my garage. We successfully crowdfunded our first product, got some great customer feedback and went on Shark Tank. Then, we went back to redesign and rebuild a better, more sophisticated device.
ZF: Tell us about your Shark Tank experience. What was it like being in the tank and meeting the sharks?
JS: It was amazing. I was always a fan of the show so when I went out there and really did it, it felt surreal. A lot of people don't realize how cutthroat it actually is. You have one hour to pitch your idea, and no do-overs. None of the sharks are briefed ahead of time; it's your job to sell the idea. A lot of time went into preparing for it, which is where I think why a lot of people fail in getting an offer – they just don't prepare enough.
ZF: How did it feel to walk away without a deal?
JS: We were broke at the time. Literally, we had zero dollars in the bank, so it felt awful to walk away without a deal. I think I actually cried on the way home. I was so sure I was going to get a deal. I just remember going back to my garage (that we were running the company out of at the time) and having to tell the team that we did not get a deal and still had no money. That was a tough moment.
ZF: How did you first raise capital? What do you think your investors saw in you and Ring's potential?
JS: Our first investors really invested in me and my passion behind the product/idea and its potential to help people. I do not think that they believed in the product so much in itself, but they believed I would figure out a way to make something work. Let's just say we were both lucky I did!
ZF: How did Richard Branson become an investor?
JS: A Ring customer was on his island having dinner with Richard. Our customer was showing Richard the app while also telling the delivery person where to put the package. He did that from Richard's island, 3,000+ miles from his house. Richard loved it and thought it would be a great holiday gift for his friends and family. It was when Richard and I started talking that he learned about our mission of reducing crime in neighborhoods and really became interested in investing.
ZF: How is Ring changing the landscape as a disruptor?
JS: We are creating a "neighborhood watch for the digital age," a proactive solution homeowners can use to protect their homes and families.
ZF: Help us understand the technology behind Ring.
JS: All of our products are built with the idea of "Always Home," which is our customer promise. Whether you are in the back bedroom or halfway around the world, our products make you feel like you are right there in the home. More importantly, the visitor interacting with you through the product also feels that you are in the home.
ZF: You started with a video doorbell and now you have expanded into other products. Tell us more.
JS: Everything we create supports our mission of reducing neighborhood crime. In order to achieve that mission, we make products around three rings of security:
1. The first ring is the most important, the ring of security around your front door. Most home burglaries start with a knock on the door or a ring of the doorbell. When you want to deliver on the promise of "Always Home," the Ring of Security around your front door is really critical. We currently have three products for this Ring: the Ring Video Doorbell Classic, Ring Video Doorbell Pro and Ring Video Doorbell Elite.
2. The second ring is the Ring of Security around your home. A burglar typically checks for occupancy by ringing the doorbell or knocking on the front door, but then breaks in through a side window or a back door where no one can see them. For this Ring of Security, we have our Stick Up Cam and Floodlight Cam.
3. The Ring of Security around your neighborhood is the third ring. This is where we leverage our large and ever-growing network of neighbors (internally, we call our customers our neighbors) and tie it together to make the actual neighborhood safer. We have a feature in our app for sharing Ring recorded videos and comments now, we are integrated with next door and we are investing a lot around this area.
ZF: What's the most important lesson you have learned as an entrepreneur and CEO?
JS: To empower everyone. It is amazing how many people grow and achieve success when you take off the management handcuffs.
ZF: What's the hardest thing about being an entrepreneur?
JS: Initially, it was just trying to get the company going, and all of the stress that goes along with that. Now, as it's getting bigger, it is the responsibility I have to the team to continue to drive the business in the right direction. I sometimes think to myself, "If I make a big mistake at this point, I will lose my investors, $209 million, and 1,000 people on my team will be out of jobs." That does weigh on me.
ZF: Which other entrepreneurs or CEOs do you admire?
JS: James Dyson. He is the magical blend of brand and product.
ZF: What's the biggest mistake you've made and what did you learn?
JS: Trusting any of our product development to third parties. With our first product, before we introduced the Ring Video doorbell, we trusted a few outside shops to work on things like our Wi-Fi antennas. Those were always the areas where we had the most trouble. We now do all of that in-house and control our products end to end.
ZF: What can we expect from Ring in the future?
JS: Safer neighborhoods at a global scale powered by Ring and made possible by our awesome neighbors (customers)
ZF: What message can you offer to the young entrepreneur who wants to follow in your footsteps?
JS: I have seen many different routes to success. My only "advice" – and this is more of an observation – is that if you follow your passion, even if you fail, you at least did something that you found interesting. You will spend a lot of time doing your business away from family and other things, and numbers show that more than likely you will fail.