Advertiser Disclosure
LendKey Student Loans Review
Updated On January 22, 2022
Editorial Note: This content is based solely on the author's opinions and is not provided, approved, endorsed or reviewed by any financial institution or partner.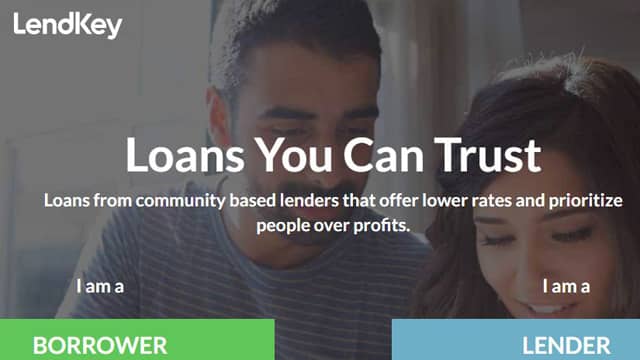 How do we make money?
The products featured on this website are from our partners who compensate us. This may impact which companies we review, the products we evaluate, and where and how a product appears on a page. We receive compensation from a partner when you apply for and receive a product through Mentor. This helps us to support our website, offer free content, tools and calculators, and continue to be one of the leading sources on personal finance.
Company Overview: LendKey
LendKey is a unique platform based in New York City that has served over 65,000 borrowers with almost $2 billion in approved loans across all 50 states. While not a direct lender, LendKey compares offers from more than 265 community banks and credit unions to find you the best one. By financing your student loan with a community bank or credit union, you also may get access to checking and savings accounts, as well as auto, personal and home loans.
LendKey Private Student Loans Overview
LendKey offers attractive rates and terms compared with other top lenders of student loans:

Overview
Variable APR:
5.84% - 11.11%
Fixed APR:
4.39% - 11.11%
Loan Type:
Graduate, Undergraduate
Minimum Loan Amount:
$5,000
Details
Low rates from community lenders like credit unions and community banks
Get lower rates with a co-signer
Ability to pause payments for up to 18 months if you become unemployed
May consider your academic credentials to help you get a lower rate
If you repay 10% of your loan before your loan enters full repayment period, 1.0% APR is dropped from your current interest rate
How LendKey Compares: Key Benefits For Student Loans
Here are some of the reasons that LendKey borrowers love LendKey student loans:
Low Rates: LendKey gives you access to community banks and credit unions that compete to give you the lowest rate for student loans.
Lower Rate With Cosigner: If you apply with a creditworthy cosigner, LendKey may give you a lower interest rate compared to the interest rate you could get on your own.
Undergraduate & Graduate:With LendKey,you can borrow undergraduate student loans or graduate student loans.
Cosigner Release: If you have made consecutive, full on-time principal and interest payments, then LendKey offers co-signer release to creditworthy borrowers.
Unemployment Protection: LendKey offers one of the longest unemployment protection periods of all student loan companies. LendKey enables you to pause payments for up to 18 months if you become unemployed.
Ability To Lower Interest Rate: If you repay 10% of your loan by the time your loan enters the full repayment period, 1.0% APR is dropped from your current interest rate!
Eligibility Criteria
To apply for LendKey student loans, you need to meet the following eligibility criteria:
Requirements To Apply For LendKey Student Loans
Minimum Age: At least age of majority in your state
Citizenship/Residency: U.S. citizen or permanent resident (applies to co-signer too, if any)
Eligible Schools: You plan to attend a Title IV accredited university or graduate program
Generally, LendKey lends only to borrowers (or cosigners) with good to excellent credit. Loan approval may depend on a number of additional factors, including, but not limited to, your (or your cosigner's) financial history, employment experience, and monthly income vs. expenses.
Bottom Line: Is LendKey right for you?
LendKey has an excellent reputation and is a leader in the student loan industry. LendKey caters to borrowers (including cosigners) with good to strong credit. The average LendKey borrower has an average credit score of at least 680. Minimum income for an LendKey borrower is $24,000 and minimum credit score is 660. However, the typical borrower has 700+ credit score and an average income of at least $70,000. The average LendKey member earns enough income to pay student loans, other debt obligations and monthly living expenses.
When you apply through LendKey, your student loans will be originated by one of its partner banks or credit unions. You will get to become a member of the credit union or bank that funds your student loans. Community banks and credit unions are known for high-touch customer service, low rates and personalized service, since they don't have the bureaucracy of larger banks. LendKey will still service your student loans through LendKey's platform so they are always available to answer your questions.
Next Steps: How To Apply To LendKey
You can apply for LendKey student loans in 3 easy steps:
Step 1: Check your personalized LendKey student loan rate in just 2 minutes.
Step 2: Complete application and upload documents.
Step 3: Accept loan terms and get funded.
The good news is that you can check your personalized student loan rate online with LendKey in 2 minutes. This way, you'll know whether you can be approved for LendKey student loans before you complete the full application. Therefore, LendKey will provide you with a personalized student loan rate estimate. The pre-approval is only a soft credit pull so there is no impact to your credit.
If you have been pre-approved, the online application only takes 10-15 minutes to complete.
Applying is super easy – get your personalized rate in 2 minutes
Top Picks For Student Loan Refinancing
September 2023
Variable APR
?

APR, or Annual Percentage Rate, is the price you pay to borrow money. Variable APR means that your interest rate can fluctuate over time, which can increase or decrease your monthly student loan payment. Typically, a variable-rate loan has a lower introductory rate than a fixed-loan rate loan. Variable APR includes a 0.25% discount when you enroll in autopay.
Fixed APR
?

APR, or Annual Percentage Rate, is the price you pay to borrow money. Fixed APR means that your interest rate will always stay the same. Even if interest rates change, your interest rate or monthly payment will not. Fixed APR includes a 0.25% discount when you enroll in autopay.
APR