Advertiser Disclosure
OppLoans Personal Loans Review
Updated On December 18, 2021
Editorial Note: This content is based solely on the author's opinions and is not provided, approved, endorsed or reviewed by any financial institution or partner.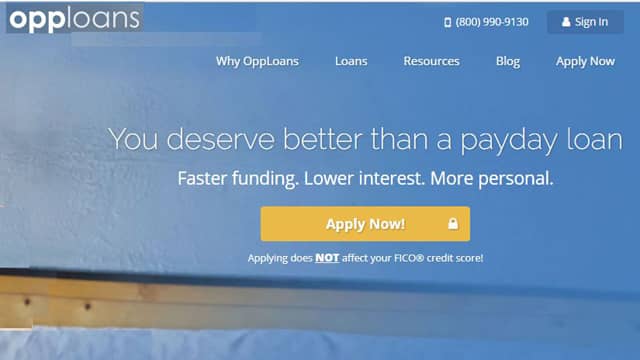 How do we make money?
The products featured on this website are from our partners who compensate us. This may impact which companies we review, the products we evaluate, and where and how a product appears on a page. We receive compensation from a partner when you apply for and receive a product through Mentor. This helps us to support our website, offer free content, tools and calculators, and continue to be one of the leading sources on personal finance.
Company Overview: OppLoans
Opportunity Loans, or OppLoans, is a lender based in Chicago that helps people get personal loans to build their credit.OppLoans is focused on bad credit personal loans and its personal loans are unsecured loans, which means there is no collateral required. OppLoans positions itself as a safer and trusted alternative to pay day loans – at a lower rate. OppLoans has funded over 100,000 customers, and has a 4.8 out of 5 stars rating on Google.
How OppLoans Compares: Key Benefits Of OppLoans's Personal loan
Here are some of the reasons that OppLoans borrowers love OppLoans personal loans:
Lower Rates: OppLoans offers lower rates for poor credit personal loans compared with payday loans.
Focused on Bad Credit: OppLoans focuses on solutions for personal loans for poor credit.
Easy Online Application: You can apply for an OppLoans personal loan completely online.
Quick Disbursement: Funds are disbursed directly to your bank account in as little as 1 day.
Customer Service: OppLoans offers live customer support 7 days a week
Eligibility Criteria
To apply for an OppLoans personal loan, you need to meet the following eligibility criteria:
Requirements To Apply For OppLoans Personal loan
Minimum Age: 18 years old
Citizenship/Residency: U.S. citizen or permanent resident (applies to co-signer too, if any)
Employment: You are currently employed
Bank Account: Bank account in your name with 90 days history
Paycheck: You receive your paycheck through direct deposit, except if you are a resident of New Mexico
Loan eligibility depends on a number of additional factors, which may include your credit profile, income and total debt payments.
Bottom Line: Is OppLoans right for you?
OppLoans has a top reputation for personal loans for bad credit, and has an A+ rating from the Better Business Bureau.
Remember, OppLoans caters to borrowers for personal loans for bad credit. OppLoans personal loans borrowers tend to have a credit score below 600. Compared with other personal loans for people with bad credit such as payday loans, OppLoans may have lower rates. However, OppLoans has much higher rates than traditional personal loans, which are for borrowers with good to excellent credit.
Currently, OppLoans is not available in every state, so you can check online to see if your state is eligible for OppLoans personal loans.OppLoans are available to military veterans, but you cannot be an active member of the military.
The good news about OppLoans personal loans is that OppLoans reports credit data to all three major credit bureaus, including Equifax, Experian and TransUnion. Therefore, when you make monthly, on-time payments in full, it can help build credit and improve your credit score.
If you have a poor credit score or want to build credit, are employed and want funds fast, then an OppLoans personal loan for bad credit may be right for you. You can use an OppLoans personal loan for any purpose such as car repair, medical expenses, household bills, rent, pay off other loans, medical expenses, major purchases, engagement ring, wedding, honeymoon or new baby expenses.
Next Steps: How To Apply To OppLoans
You can apply for an OppLoans personal loan in 3 easy steps.
Step 1: Check your personalized personal loan rate in just 2 minutes.
Step 2: Complete application and upload documents.
Step 3: Accept loan terms and get funded.
The good news is that you can check your new personal loan rate online with OppLoans before you complete the full application. This way, you'll know whether you can be approved for OppLoans personal loan. Therefore, OppLoans will provide you with an estimated personal loan rate. The pre-approval is only a soft credit pull so there is no impact to your credit.
If you have been pre-approved, you'll need at least the following documents to complete the online application (which takes about 10-15 minutes):
Your most recent pay stubs or proof of income
Driver's license or passport (or other form of government-issued identification)
Funding for your personal loan is quick and can occur as soon as 1 day.
Applying is super easy – get your personalized rate in 2 minutes
Top Picks For Personal Loans
March 2023
APR
?

APR, or Annual Percentage Rate, is the price you pay to borrow money. Variable APR means that your interest can fluctuate over time, which can increase or decrease your monthly payment. Fixed APR means that your interest will always stay the same. Even if interest rates change, your interest rate or monthly payment will not. APR includes a 0.25% discount when you enroll in autopay.