Advertiser Disclosure
SoFi Student Loan Refinancing Review
Updated On September 10, 2022
Editorial Note: This content is based solely on the author's opinions and is not provided, approved, endorsed or reviewed by any financial institution or partner.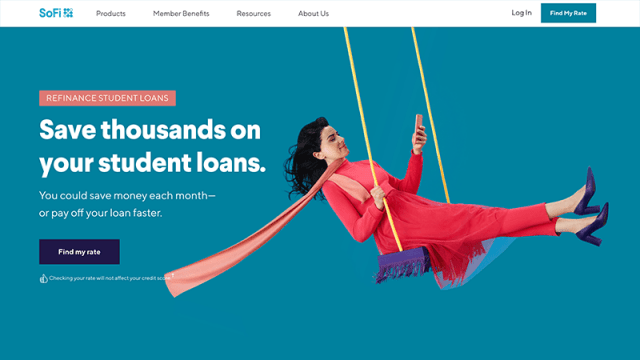 How do we make money?
The products featured on this website are from our partners who compensate us. This may impact which companies we review, the products we evaluate, and where and how a product appears on a page. We receive compensation from a partner when you apply for and receive a product through Mentor. This helps us to support our website, offer free content, tools and calculators, and continue to be one of the leading sources on personal finance.
SoFi is a leading student loan refinancing lender that was the first company to offer student loan refinancing for federal and private student loans together. SoFi caters to borrowers with excellent credit and a history of financial responsibility.
In this SoFi student loan refinance review, we will discuss:
SoFi student loan refinance: Rating
Best For: SoFi is best for borrowers who want good customer service and additional benefits.

Overview
Variable APR:
6.24% - 9.99%
Minimum Credit Score:
650
Minimum Loan Amount:
$5,000 ($10,000 in CA)
Details
Eligible Loans:
Private & Federal
Eligible Degrees:
Undergraduate & Graduate
Loan Terms:
5, 7, 10, 15, 20 years
Borrower Residency:
All states
SoFi student loan refinance: Pros and Cons
Pros:
Ability to check new interest rate for free before you apply
Refinance Parent PLUS Loans in your child's name
Extra perks such as career counseling and job search support
Student loan refinancing available in all 50 states and Washington, D.C.
Cons:
Refinancing not available if you didn't complete your degree
No cosigner release option
Higher minimum loan balance for California residents
SoFi student loan refinance: Overview
SoFi, also known as Social Finance, is a market leader that helped pioneer the technology-driven private student lending market. Based in San Francisco, SoFi positions itself as the "anti-bank" and focuses on borrowers with excellent credit. While there is no minimum income, many borrowers who refinance with SoFi have graduate degrees. In addition to student loan refinancing, SoFi offers its members several perks such as free career services, unemployment protection, customer support seven days a week, and free SoFi events.
Advantages of Refinancing With SoFi
Here is what we like about refinancing with SoFi:
If you lose your job, SoFi will temporarily pause your payments for up to 12 months.
SoFi offers free career services to help you advance your career and negotiate your salary.
Drawbacks of Refinancing With SoFi
SoFi can improve in these key areas:
Offer co-signer release.
Offer more than 12 months of forbearance.
Refinance student loans for borrowers without a degree.
SoFi student loan refinancing review: Details
How to refinance student loans with SoFi
You can check your new interest for free in two minutes with no impact to your credit score. If you like your interest rate, you can apply online to refinance your student loans with SoFi. The application comes about 10-15 minutes to complete.
Is SoFi right for you?
SoFi is a trusted student loan refinancing lender that offers competitive rates and terms. Refinancing with SoFi may be right for you if:
You have a credit score of at least 650
You have stable and recurring monthly income
You have a higher interest rate than what SoFi offers
You don't plan to use income-driven repayment or federal student loan forgiveness
SoFi targets borrowers with good to strong credit scores and high income who have a lower risk of becoming unemployed. Many SoFi members have a graduate degree and credit score over 700. In addition to forbearance and deferral, SoFi also offers benefits such as career coaches and networking opportunities. If you have a low credit score, you can apply to SoFi with a qualified cosigner with a good to excellent credit score and income. A qualified cosigner may help you get approved and get a lower rate.
Top Picks For Student Loan Refinancing
September 2023
Variable APR
?

APR, or Annual Percentage Rate, is the price you pay to borrow money. Variable APR means that your interest rate can fluctuate over time, which can increase or decrease your monthly student loan payment. Typically, a variable-rate loan has a lower introductory rate than a fixed-loan rate loan. Variable APR includes a 0.25% discount when you enroll in autopay.
Fixed APR
?

APR, or Annual Percentage Rate, is the price you pay to borrow money. Fixed APR means that your interest rate will always stay the same. Even if interest rates change, your interest rate or monthly payment will not. Fixed APR includes a 0.25% discount when you enroll in autopay.
APR