Advertiser Disclosure
5 Student Loan Questions For U.S. Education Secretary Betsy DeVos
Updated On November 2, 2021
Editorial Note: This content is based solely on the author's opinions and is not provided, approved, endorsed or reviewed by any financial institution or partner.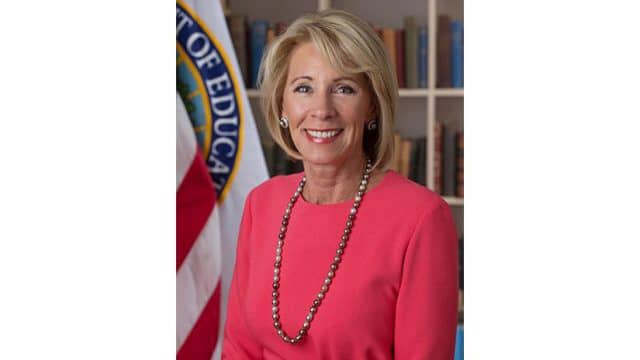 How do we make money?
The products featured on this website are from our partners who compensate us. This may impact which companies we review, the products we evaluate, and where and how a product appears on a page. We receive compensation from a partner when you apply for and receive a product through Mentor. This helps us to support our website, offer free content, tools and calculators, and continue to be one of the leading sources on personal finance.
If you have, or will have, student loans, the name Betsy DeVos is someone that you should know.
DeVos is President-elect Donald Trump's nominee for U.S. Secretary of Education and, if confirmed by the U.S. Senate following her confirmation hearing on Tuesday, will have significant impact on your student loans over the next four years.
Top Picks For Student Loan Refinancing
September 2023
Variable APR
?

APR, or Annual Percentage Rate, is the price you pay to borrow money. Variable APR means that your interest rate can fluctuate over time, which can increase or decrease your monthly student loan payment. Typically, a variable-rate loan has a lower introductory rate than a fixed-loan rate loan. Variable APR includes a 0.25% discount when you enroll in autopay.
Fixed APR
?

APR, or Annual Percentage Rate, is the price you pay to borrow money. Fixed APR means that your interest rate will always stay the same. Even if interest rates change, your interest rate or monthly payment will not. Fixed APR includes a 0.25% discount when you enroll in autopay.
APR
Who Is Betsy DeVos?
DeVos is a billionaire businesswoman, philanthropist and former chairwoman of the Michigan Republican Party. She is the daughter-in-law of Richard DeVos, the founder of Amway. DeVos is also the chairwoman of Windquest Group, a privately held operating group of companies that invests in technology, manufacturing and clean energy. Before she was nominated on November 23, 2016, DeVos supported Jeb Bush, Carly Fiorina and Marco Rubio in the Republican primary.
DeVos is a strong proponent of charter schools and school vouchers (which allow students to attend private schools with public funding) and believes in increased choice within the education system. Her detractors, including teachers' unions such as the National Education Association, believe that DeVos wants to privatize the education market. Further, they note that unlike previous education secretaries, DeVos lacks the requisite experience for the role because she has never: been an educator, directed a state department of education, attended public school or had children who attended public school.
Why Did President-Elect Trump Pick DeVos?
"Betsy DeVos is a brilliant and passionate education advocate," Trump said in a statement after nominating DeVos. "Under her leadership we will reform the U.S. education system and break the bureaucracy that is holding our children back so that we can deliver world-class education and school choice to all families."
While DeVos' public views on charter schools and school vouchers are well known, there is more to learn regarding her position on student loans.
Here are five questions that would help provide more insights for current and prospective student loan borrowers:
Student Loan Questions
1. What role should private banks play in student loans compared with the federal government?
Trump has called for the potential reduction of the federal government's role in student lending and a corresponding increase in the role of private lenders in the issuance of federal student loans. He has criticized the amount of "profit" that the government generates from student loans, which may signal a reduction of interest rates for federal student loans.
If both the federal government and private lenders originate student loans, this would mark a return to the pre-2010 era when the federal government issued student loans and private banks issued federally-backed student loans. In 2010, the Obama administration began originating all federal student loans through the Direct Loan program.
Would the federal government lower student loan interest rates for federal student loans?
What is your perspective on the private sector expanding its role in student loan refinancing?
2. What is the proper amount of risk sharing between the federal government and universities with respect to student loan defaults?
While universities set tuition rates, the federal government currently takes all the risk when a student defaults on his or her federal student loans.
Is this fair? Should colleges and universities assume a portion of this risk?
Trump has also called on colleges and universities with large endowments to help lower the cost of tuition (or face potential loss of tax exempt status).
Do you agree?
How would this be measured?
3. What is the future of the Public Service and Teacher Loan Forgiveness Program?
The federal government currently provides student loan forgiveness for public servants and teachers who meet certain qualifications. Public servants, for example, can have 100% of their student loans forgiven after 120 eligible on-time monthly payments.
What are your perspectives on the Public Service and Teacher Loan Forgiveness Programs?
Do you believe that these should remain standalone programs?
Or do you believe that they should be combined into a single income-based repayment program for all student loan borrowers?
Do you believe that public servants and teachers who are now in repayment will be grandfathered in under the current programs as these programs are presently constructed, since they borrowed with the expectation of entering public service and qualifying for loan forgiveness?
4. What immediate relief, if any, do you think should be available for the millions of borrowers who are afflicted by the student loan crisis in this country?
Last October, Trump proposed an income-based repayment plan that allows borrowers to cap their monthly student loan payments based on their income and then have their student loans forgiven after a certain period of time.
Under Trump's plan, if you are a student loan borrower, your monthly student loan payments would be capped at 12.5% of your income. After 15 years of monthly payments, your remaining student loan debt would be forgiven.
Today, the standard federal government student loan repayment period is 10 years. Under the Pay As You Earn (PAYE) and Revised Pay As You Earn (REPAYE) income-driven repayment plans, you pay 10% of your discretionary income each month toward your federal undergraduate student loans for 20 years, at which point any remaining balance on your federal undergraduate student loan is forgiven. Under REPAYE, if you have graduate school student loan debt, the repayment period is 25 years before your remaining student loan debt is forgiven.
In addition to shortening the student loan repayment period, are there other immediate relief measures for student loan borrowers that can be implemented to lessen their financial burden?
5. What do you think of New York Governor Andrew Cuomo's plan to offer free college tuition?
Earlier this month, Cuomo introduced a plan to provide free tuition to New York residents whose families earn less than $125,000 per year to any of New York's state universities (State University of New York or SUNY), city colleges (City University of New York or CUNY) or community colleges.
New York would be the first state to offer free tuition at all its public colleges and universities.
Do you think this plan should be a model for other states to follow?
If not, do you believe that there are alternative plans that can achieve greater impact?