Advertiser Disclosure
Upgrade Personal Loans Review
Updated On January 22, 2022
Editorial Note: This content is based solely on the author's opinions and is not provided, approved, endorsed or reviewed by any financial institution or partner.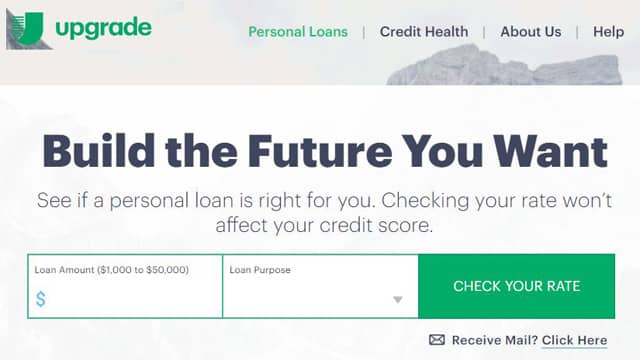 How do we make money?
The products featured on this website are from our partners who compensate us. This may impact which companies we review, the products we evaluate, and where and how a product appears on a page. We receive compensation from a partner when you apply for and receive a product through Mentor. This helps us to support our website, offer free content, tools and calculators, and continue to be one of the leading sources on personal finance.
Company Overview: Upgrade
Upgrade is a company based in San Francisco focused on personal loans. Two members of its founding team, Renaud Laplanche and Soul Htite, are the co-founders of LendingClub, a pioneer in marketplace lending that facilitated over $28 billion in loans and made credit more affordable for nearly 2 million American families over the last decade. Soul also founded Dianrong, one of the largest marketplace lending platforms in Asia. Upgrade combines personal loans with free credit monitoring, alerts and education features. Upgrade wants to focus on personal loan borrowers who may be rejected from other lenders by helping them improve their credit standing with free credit monitoring services and educational tools. Upgrade is focused on personal loan borrowers who want to consolidate credit card debt and lower their interest rate. Overall, Upgrade wants to target mainstream personal loan borrowers with diverse credit scores and incomes.
Upgrade Personal Loan Overview
Upgrade offers attractive rates and terms compared with other top lenders in the personal loan industry:

Overview
Minimum Credit Score:
620
Minimum Loan Amount:
$1,000
Maximum Loan Amount:
$35,000
Minimum Income:
None, but must have at least $1,000 per month of free cash flow
Details
Origination Fees:
1.85% – 8.99%
Late Fees:
$10 after 15-day grace period
How Upgrade Compares: Key Benefits Of Upgrade's Personal loan
Here are some of the reasons that Upgrade borrowers love Upgrade personal loans:
Mainstream Borrowers: Upgrade targets mainstream personal loan borrowers so you don't need to have the best credit score to get approved.
Free Credit Monitoring:Upgrade offers free credit monitoring, alerts and education features.
Easy Online Application:You can apply for an Upgrade personal loan completely online.
Fast Funding: Funds are disbursed typically within 1 day directly to your bank account.
Job Loss: If you lose your job, Upgrade can work with you to reduce your monthly payment on a temporary basis or to extend the length of your personal loan.
Eligibility Criteria
To apply for an Upgrade personal loan, you need to meet the following eligibility criteria:
Requirements To Apply For Upgrade Personal loan
Minimum Age: At least age of majority in your state
Citizenship/Residency: U.S. citizen or permanent resident, or living in the U.S. with a valid visa (applies to co-signer too, if any)
Bank Account: Need a verifiable bank account
Email Address: Need a verifiable email address
Loan eligibility depends on a number of additional factors, which may include your credit profile, loan amount, loan term, and credit usage & history.
Bottom Line: Is Upgrade right for you?
Upgrade has a top reputation for personal loans.
You may be a good fit for Upgrade if:
You have a credit score of at least 620.
You have at least $1,000 of cash left over each month after paying your bills.
You are not resident of any state, except Connecticut, Colorado, Iowa, Vermont or West Virginia.
Next Steps: How To Apply To Upgrade
You can apply for an Upgrade personal loan in 3 easy steps
Step 1: Check your personalized personal loan rate in just 2 minutes.
Step 2: Complete application and upload documents.
Step 3: Accept loan terms and get funded in only 1 day (or 3 days if for a coding boot camp tuition).
The good news is that you can check your new personal loan rate online with Upgrade before you complete the full application. This way, you'll know whether you can be approved for Upgrade personal loan. Therefore, Upgrade will provide you with an estimated personal loan rate. The pre-approval is only a soft credit pull so there is no impact to your credit.
If you have been pre-approved, you'll need at least the following documents to complete the online application (which takes about 10-15 minutes):
Your most recent pay stubs
Driver's license or passport (or other form of government-issued identification)
Funding for your personal loan is quick and can occur within 1 day directly in your bank account.
Applying is super easy – Get your personalized rate in 2 minutes
Top Picks For Personal Loans
September 2023
APR
?

APR, or Annual Percentage Rate, is the price you pay to borrow money. Variable APR means that your interest can fluctuate over time, which can increase or decrease your monthly payment. Fixed APR means that your interest will always stay the same. Even if interest rates change, your interest rate or monthly payment will not. APR includes a 0.25% discount when you enroll in autopay.