Advertiser Disclosure
Upstart Personal Loans Review
Updated On December 18, 2021
Editorial Note: This content is based solely on the author's opinions and is not provided, approved, endorsed or reviewed by any financial institution or partner.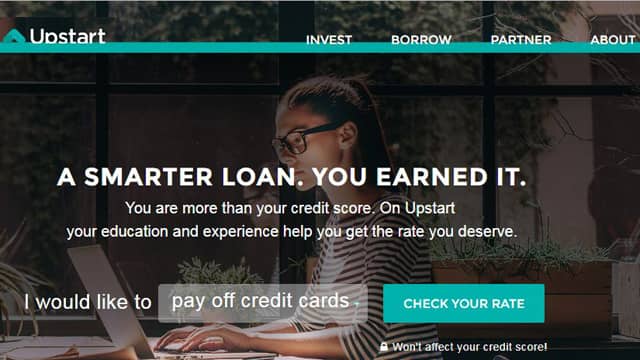 How do we make money?
The products featured on this website are from our partners who compensate us. This may impact which companies we review, the products we evaluate, and where and how a product appears on a page. We receive compensation from a partner when you apply for and receive a product through Mentor. This helps us to support our website, offer free content, tools and calculators, and continue to be one of the leading sources on personal finance.
Company Overview: Upstart
Founded by ex-Googlers in 2012, Upstart is the first lending platform to leverage artificial intelligence and machine learning to price credit and automate the borrowing process for personal loans.Upstart is a technology-drive platform that makes personal loans to borrowers with have limited or no credit history, but who have a bright financial future with high earning potential. Upstart goes beyond FICO and uses non-conventional variables to provide superior loan performance and improve consumers' access to credit.
How Upstart Compares: Key Benefits Of Upstart's Personal loan
Here are some of the reasons that Upstart borrowers love Upstart personal loans:
Easy Online Application: You can apply for an Upstart personal loan completely online.
Rate Discount: Upstart offers a rate discount on personal loans to borrowers who learn how to code.
Coding Boot Camp: You can use an Upstart personal loan to cover the cost of tuition for a coding boot camp.
Fast Funding: Funds are disbursed typically within 1 day. Education loans (such as for coding boot camp) are typically funded within three days.
Customer Service: Upstart offers live customer support 6 days a week
Eligibility Criteria
To apply for an Upstart personal loan, you need to meet the following eligibility criteria:
Requirements To Apply For Upstart Personal loan
Minimum Age: At least age of majority in your state
Citizenship/Residency: U.S. citizen or permanent resident (applies to co-signer too, if any)
Loan eligibility depends on a number of additional factors, which may include your credit profile, education, income and total debt payments.
Bottom Line: Is Upstart right for you?
Upstart has a top reputation for personal loans.
You may be a good fit for Upstart if:
You have a credit score of at least 620
If you have no credit history, Upstart will use other factors to evaluate your personal loan application such as your education degrees, major area of study, employment and income.In addition to using FICO and your credit history, Upstart evaluates other factors to evaluate your creditworthiness.
You have a bright financial future with high earning potential.
You have recurring annual income of at least $12,000, whether it is from a full-time job, part-time job or offer letter.
You have a debt-to-income ratio of no more than 45%
If you are interested in attending a coding boot camp, Upstart may provide you with a personal loan to cover the cost of tuition – even if you do not have a regular source of income. However, you do need a college degree to qualify.
Next Steps: How To Apply To Upstart
You can apply for an Upstart personal loan in 3 easy steps.
Step 1: Check your personalized personal loan rate in just 2 minutes.
Step 2: Complete application and upload documents.
Step 3: Accept loan terms and get funded in only 1 day (or 3 days if for a coding boot camp tuition).
The good news is that you can check your new personal loan rate online with Upstart before you complete the full application. This way, you'll know whether you can be approved for Upstart personal loan. Therefore, Upstart will provide you with an estimated personal loan rate. The pre-approval is only a soft credit pull so there is no impact to your credit.
If you have been pre-approved, you'll need at least the following documents to complete the online application (which takes about 10-15 minutes):
Your most recent pay stubs
Driver's license or passport (or other form of government-issued identification)
College transcripts or SAT scores, if applying for a personal loan to cover tuition at a coding boot camp
Funding for your personal loan is quick and can occur within 1 day (or 3 days if for coding camp).
Applying is super easy – Get your personalized rate in 2 minutes
Top Picks For Personal Loans
September 2023
APR
?

APR, or Annual Percentage Rate, is the price you pay to borrow money. Variable APR means that your interest can fluctuate over time, which can increase or decrease your monthly payment. Fixed APR means that your interest will always stay the same. Even if interest rates change, your interest rate or monthly payment will not. APR includes a 0.25% discount when you enroll in autopay.