Advertiser Disclosure
This Fearless Girl May Change Wall Street
Updated On November 13, 2021
Editorial Note: This content is based solely on the author's opinions and is not provided, approved, endorsed or reviewed by any financial institution or partner.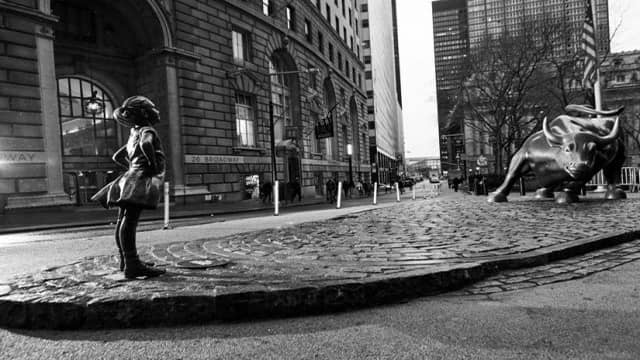 How do we make money?
The products featured on this website are from our partners who compensate us. This may impact which companies we review, the products we evaluate, and where and how a product appears on a page. We receive compensation from a partner when you apply for and receive a product through Mentor. This helps us to support our website, offer free content, tools and calculators, and continue to be one of the leading sources on personal finance.
On the eve of International Women's Day, State Street Global Advisors, the asset management business of State Street Corporation, called on over 3,500 companies with an aggregate market capitalization of $30 trillion, to increase the number of women on their corporate boards.
In conjunction with this call to action, State Street placed a bronze statue of a determined young girl staring down the sculpture, Charging Bull – a long-standing symbol of Wall Street – in Bowling Green Park in Lower Manhattan.
"One of the most iconic images on Wall Street is the charging bull," Lori Heinel, State Street's deputy global chief investment officer, told Business Insider. "So the idea of having a female sort of stand against the bull or stand up to the bull just struck us as a very clever but also creative and engaging way to make that statement. Even though it's a little girl, her stance is one of determination, forwardness, and being willing to challenge and take on the status quo."
According to State Street, although there has been progress regarding the inclusion of women on corporate boards, one of four Russell 3000 companies has no women on its board of directors, and women comprise less than 15% of the boards of directors of nearly 60% of Russell 3000 companies.
"We believe good corporate governance is a function of strong, effective and independent board leadership," said Ron O'Hanley, president and chief executive officer of State Street Global Advisors, in a statement. "A key contributor to effective independent board leadership is diversity of thought, which requires directors with different skills, backgrounds and expertise. Today, we are calling on companies to take concrete steps to increase gender diversity on their boards and have issued clear guidance to help them begin to take action."
According to an MSCI study cited by State Street, companies with strong female leadership generated a return on equity of 10.1% per year versus 7.4% for those without a critical mass of women at the top, which is a 36.4% increase of average return on equity.
"Most large-cap company boards in [Australia, the U.K. and the U.S.] have at least one female director but have yet to fully embrace gender equality in their ranks," said Rakhi Kumar, head of corporate governance at State Street Global Advisors. "We believe boards have an important role to play in increasing gender diversity and believe our guidance can help directors take action now."
State Street Global Advisors, which manages nearly $2.5 trillion in assets, partnered with New York City officials to install the Kristen Visbal-designed sculpture, which is expected to remain at least for one month in Bowling Green Park. Charging Bull was designed in December 1989 by Italian-born artist Arturo Di Modica.
Top Picks For Student Loan Refinancing
September 2023
Variable APR
?

APR, or Annual Percentage Rate, is the price you pay to borrow money. Variable APR means that your interest rate can fluctuate over time, which can increase or decrease your monthly student loan payment. Typically, a variable-rate loan has a lower introductory rate than a fixed-loan rate loan. Variable APR includes a 0.25% discount when you enroll in autopay.
Fixed APR
?

APR, or Annual Percentage Rate, is the price you pay to borrow money. Fixed APR means that your interest rate will always stay the same. Even if interest rates change, your interest rate or monthly payment will not. Fixed APR includes a 0.25% discount when you enroll in autopay.
APR