Advertiser Disclosure
How This 29-Year-Old Paid Off $113,000 in Student Loans In 7 Years
Updated On September 14, 2022
Editorial Note: This content is based solely on the author's opinions and is not provided, approved, endorsed or reviewed by any financial institution or partner.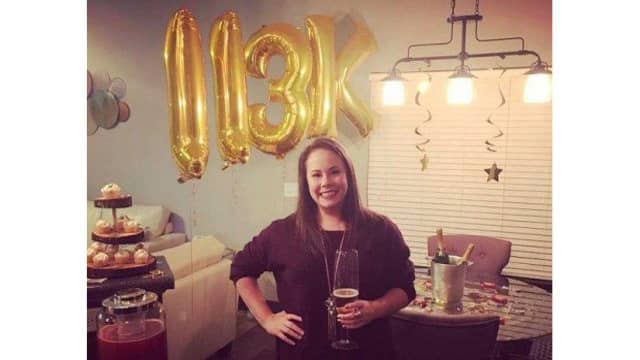 How do we make money?
The products featured on this website are from our partners who compensate us. This may impact which companies we review, the products we evaluate, and where and how a product appears on a page. We receive compensation from a partner when you apply for and receive a product through Mentor. This helps us to support our website, offer free content, tools and calculators, and continue to be one of the leading sources on personal finance.
Student loan repayment in less than 7 years. Meet Jessica Elberfeld – the Millennial who did it and shared her story with Mentor.
Jessica Elberfeld moved to Nashville to chase her childhood dream to become a country music singer.
After graduating Belmont University with $68,000 in student loans – including private loans with an interest rate as high as 10.75% – Elberfeld knew she had to do something more than an interest-only student loan repayment plan.
Elberfeld shared with Mentor (and Forbes) her story and strategy to repay over $113,000 in student loans in just under seven years. Here is how she did it:
Top Picks For Student Loan Refinancing
December 2023
Variable APR
?

APR, or Annual Percentage Rate, is the price you pay to borrow money. Variable APR means that your interest rate can fluctuate over time, which can increase or decrease your monthly student loan payment. Typically, a variable-rate loan has a lower introductory rate than a fixed-loan rate loan. Variable APR includes a 0.25% discount when you enroll in autopay.
Fixed APR
?

APR, or Annual Percentage Rate, is the price you pay to borrow money. Fixed APR means that your interest rate will always stay the same. Even if interest rates change, your interest rate or monthly payment will not. Fixed APR includes a 0.25% discount when you enroll in autopay.
APR
Zack Friedman (ZF): What was your original loan size and interest rate?
Jessica Elberfeld (JE): The first two years of college were completely free through academic scholarships in my hometown of Gulf Shores, Alabama. I moved to Nashville in 2007 and borrowed $68,545.00 to attend Belmont University for the remaining two years of my degree. That total was made up of six different loans: four private and two federal. The federal loans combined only made up of $10,000 of the overall total and their interest rates were 6.0% and 6.8%. The private loans ranged from 8.25% to 10.75%.
ZF: When you graduated, did you develop an initial action plan for student loan repayment? If not, then when?
JE: No, I was simply on a hope and a prayer after graduating. I worked multiple jobs within the music industry to make sure I had enough money each month to cover everything and somehow it always worked out, but I knew that wouldn't fly for very long given I was on an interest only repayment plan. Upon graduation, Sallie Mae gives you an option to choose an interest-only payment plan; this is appealing as it greatly reduces your monthly payment. You can only be on this payment plan for a maximum of four years throughout the life of the loan. Everyone I knew was on this plan after graduation. Hilarious how we all thought Sallie Mae was cutting us some kind of break.
That being said, I didn't develop an action plan for myself until 2013, four years after graduating. I knew my interest only payment plan was going away and my monthly payment was about to seriously balloon once the principal was introduced.
ZF: How long did it take you to pay off your student loans?
JE: I started repayment six months after graduating and made my first (interest only) payment in December 2009. I started aggressively paying my loans in early to mid-2013. I paid off all of my loans in November 2016. In total, a little less than seven years.
ZF: What was your strategy?
JE: Although I studied the approach of other financial advisors, I ultimately landed on Dave Ramsey's Snowball Theory.
I agreed with the math behind Suze Orman's Avalanche Theory (pay the highest interest rate first regardless of the principal), but ultimately it was the behavior behind Dave Ramsey's approach that made me choose his in the long run. In the very beginning, I practiced the Avalanche Theory: the first loan I paid off was the private loan with the highest 10.75% interest rate.
I did this as it carried the smallest principal out of the other 3 private loans. I knew once I got the only double-digit interest rate loan I had knocked out, I could breathe a little easier and start the Snowball. From there, I paid off my two federal loans, and then knocked out one more private loan before consolidating the last two private loans. Ramsey's strategy ended up working really well for me as the small wins gave me the confidence to crush the next big loan in line.
ZF: How important to you was having a budget?
JE: I'll be honest. In the beginning, I didn't really have one – not a strict one at least. I knew what my main expenses were, and I knew what I needed to have saved in order to hit my student loan goal that month. I wanted the loans paid off and that was the priority so my spending, for the most part, was in check to where I rarely missed the monthly goal I had set for myself. I wrote down all of my 'unexpected expenses' each month so if I missed goal by a certain amount, I could somewhat see why.
Fast forward into late 2014/early 2015 and that is when my budgeting really started coming into existence. Once I started budgeting, it became the most important thing and it gave me the ultimate sense of control over my finances.
ZF: How did you keep yourself accountable for your spending and meeting your budget?
JE: I wrote the remaining balances of each loan down in a journal every month. Every single month. I wanted to see those numbers move and it was motivating to me to see my progress written in black and white. A lot of my friends also helped just by simply being in the same boat. I worked a lot too so that occupied a good portion of my time, which cut back on spending temptations.
ZF: What advice can you give to borrowers who are trying to pay off their student loans?
JE: Do what works best for you, but know the why behind your payoff.
If you only kind of want it, you will only kind of get results. You have to really want it, then you have to go work towards it.
There is an age-old saying that resonates so loudly with me which I absolutely love, "Never give up on something because of the time it takes to accomplish it. The time will pass any way."
In terms of your loans, you're going to pay this huge sum of hard-earned money to a random lender for 30 years. The time is going to pass any way, and for me, I chose the path to being out of debt by 2016 versus 2032. An early payoff can seem a bit unrealistic from the outside, but once you are in there, it really does become second nature.
If you are anything like me, once you see the amount of interest you are paying in comparison to your principal, it will light a fire inside of you making it your personal mission to not let the lender get a penny richer. To take it a step further from that, once you track your transaction history and calculate how much you have paid to a lender from your first month of repayment versus how much you still have left to go, it will almost break you.
Add what you have paid thus far to the principal you still have remaining and that number, my friends, is where my $113,000 came from. It is that same summation on your own loans that will shake you down into a whole new way of spending.
ZF: What did you do to celebrate paying off your student loans?
JE: Over the course of my pay-off journey, many people asked me what I would do to celebrate and my answer was always, "Party!" So, party I did.
A month after I paid them off, I hosted some of my closest friends at my home in Nashville. The name of the party was "Cheers to Breaking up with My Bae, Sallie Mae," and the theme was obviously money. The night was filled with tons of chocolate gold coins, play money, Hundred Grand chocolate bars, mint cupcakes, confetti and champagne. I also had gigantic gold balloons that read '113K' floating around the party. We listened to a playlist full of songs across all decades and genres about money such as: We Don't Need No Education, If I Was A Rich Girl, All I Do Is Win, Workin' 9 to 5, She Works Hard For The Money, and Bills Bills Bills.
I am so blessed to have the incredible support system that I do. I moved to Nashville at 20-years-old knowing no one, and it blows me away to look around at who is present in my life here today.
Jessica Elberfeld paid off $113,000 in student loans in less than seven years – an inspirational example of how to Mentor.
Mentor can help you learn more about student loan options:
You can read Part 2 of the Mentor interview here learn what's next for Jessica's financial life.